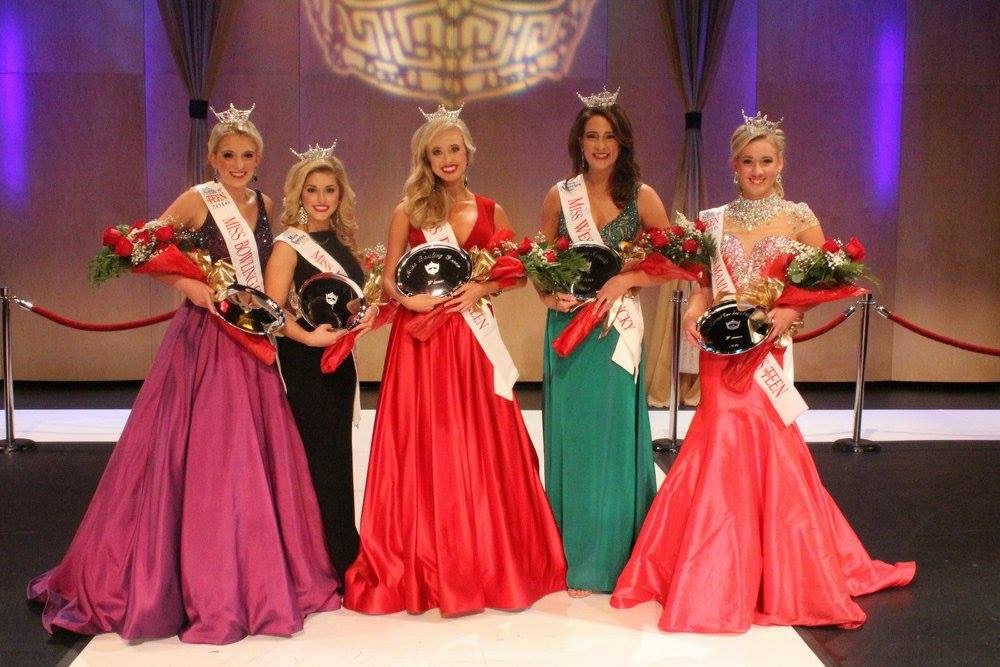 2015 winners
Left to right: Miss Bowling Green's Outstanding Teen 2016, Hannah Robb; Miss Mammoth Cave Area 2016, Haley Wheeler; Miss Bowling Green 2016, Annie Franklin; Miss Western Kentucky 2016, Alyssa Robb and Miss Mammoth Cave Area's Outstanding Teen 2016, Noelle Thompson

Miss Bowling Green 2017
The 2017 Miss Bowling Green, Miss Mammoth Cave Area & Miss Western Kentucky Pageant along with the Miss Bowling Green & Miss Mammoth Cave Area Outstanding Teen Pageant will be held on Sunday, November 6th at 3:30 PM (CST) at Van Meter Auditorium.
There will be a mandatory contestant orientation in the evening on Saturday, November 5th at the Holiday Inn University Plaza in the Presidential Suite. Registration starts at 6 PM in the hotel atrium with orientation at 7 PM and then from 7:30 PM until 10 PM is the Miss Bowling Green 10th Anniversary celebration!
Hotel reservations can be made for Saturday night at the following link:
Hello and Welcome,

This is the home page for the Miss Bowling Green, Miss Mammoth Cave Area, Miss Western Kentucky and the Miss Bowling Green, Miss Mammoth Cave Area's Outstanding Teen Pageant. Here you will find all the paper work and information you will need for each pageant. Along with the paper work we will need five 5x7 photos for the judges and of course your talent CD. All teen entries must be accompanied by a $100 entry fee which can be by check, cashier's check or money order. When we receive all these things we need from you, you will be officially an entry in this year's pageant. Miss contestants are required to register with CMN and make a $100 donation prior to the pageant date (details in the contestant forms section).

After morning interviews and a short break for lunch there will be afternoon rehearsals and the show to follow.

If you have any questions feel free to give me a call at 270-792-1015. We, the Board of Directors, are looking forward to working with you and to a great pageant.

See you soon,

Regina Webb
Executive Director